Welcome to Memories in Bronze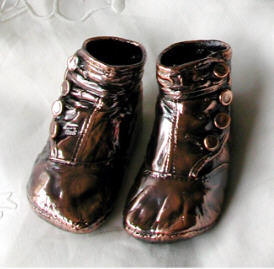 Hold onto those special moments and own an everlasting reminder of your baby's first steps. Your child's tiny bronzed baby shoes will afford you many precious memories.
We offer genuine baby shoe bronzing and we also bronze adult shoes, boots, pacifiers, hats, military covers, sports memorabilia, and customizing of other bronze keepsakes. Our process of electroplating forms a solid coating of pure copper, which assures a smooth, beautiful finish that lasts a lifetime. We take the extra care and time to produce an extremely high quality keepsake.
Check our products, from unmounted baby shoes, to mounted shoes with picture frames or bookends. Bronze baby shoes make a unique gift for both parent and child.
Bronze baby shoes - Bronzed baby shoes make a great memento or bronzed keepsake for both the parent & child. We do baby shoe bronzing and we can mount the shoes in frames. They look great on bookends.