Bronze baby shoes - Bronzed baby shoes make a great memento or bronzed keepsake for both the parent & child. We do baby shoe bronzing and we can mount the shoes in frames. They look great on bookends.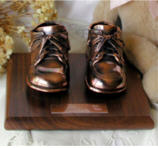 Memories in Bronze
Genuine Baby Shoe Bronzing

The Holidays are coming!! Send in your gift items for bronzing now!!

800-605-6040