Bronze baby shoes - Bronzed baby shoes make a great memento or bronzed keepsake for both the parent & child. We do baby shoe bronzing and we can mount the shoes in frames. They look great on bookends.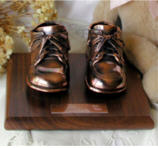 Memories in Bronze
Genuine Baby Shoe Bronzing

Bronze items to be returned by Christmas must be received by Oct. 25th* to avoid Rush Charges!!

*Call for dates for other finishes
800-605-6040